Across the world, people light candles, hold banners and pictures, and hold their heads in silence to grieve the loss of one of the world's greatest soccer legends: Edson Arantes do Nascimento, more commonly known as Pelé. Known as one of the most influential and impactful soccer figures, his death has resulted in a wave of messages from the public and the sports world alike as people come to honor his legacy.
How did he die?
Pelé had been receiving treatment for several years for colon cancer. However, he had been admitted to the hospital a few weeks before his death because of a variety of health issues as a result of cancer complications. His condition worsened, and eventually his death resulted from multiple organ failure caused by colon cancer, as confirmed by his manager and a hospital in São Paulo. He passed away at the age of 82 on December 29th.
His Legacy
After playing soccer barefoot in the streets of his hometown, Três Corações, Pelé grew to fame in his performance at the 1958 World Cup in Sweden, simply at the age of 17. It was a 5-2 victory for Brazil, giving them their first World Cup trophy out of the five they have now. He grew to become the legend who won three World Cup trophies in total, making Brazil's name well-known throughout the world.
Later, his fame grew as he was widely praised for his ideal physical features, such as his perfect balance and strong motor control. When he was close to retiring from Santos, in the 1970's, Pelé was released by the Brazilian government to play soccer in the United States in order to promote soccer within the U.S. Pelé received backlash for leaving his country's team, but this was his first step towards becoming the soccer icon that promoted and changed the sport as a whole.
On and Off The Field
Pelé was not known just for his superb soccer skills, but also for his disposition and energy off of the field. He was generally known as a warm and friendly person, and he had certain passions that he tied in with his athletic career. He was proud to give a voice to minority populations and believed that soccer could unite people across divides created by race, ethnicity, etc.
He was also a major advocate for education as he was not able to finish his own education. He spoke of the plight of children in Brazil and other countries and how many of them are illiterate, unable to study, and are consequently stuck in a cycle of poverty.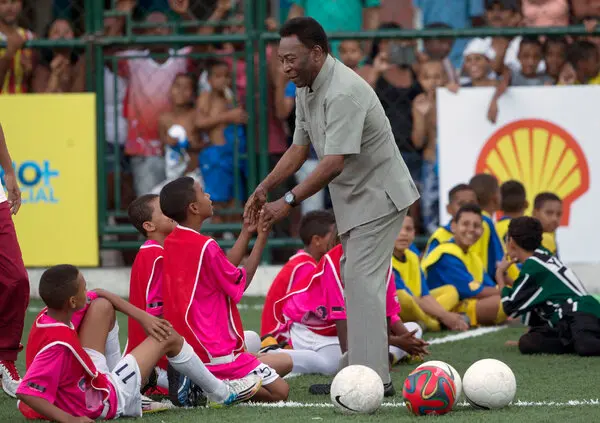 One Last Goodbye
Thousands of people have mourned the loss of Pelé, especially Brazilians, who honored him for giving Brazil a place in the world. Many famous soccer players, including Neymar, Messi, Ronaldo, and Mbappé, posted sentimental messages and memories on social media as they shared their grief. Pelé's funeral will be taking place in Santos, the very place from which he started before he rose to stardom. Many fans have also gathered at famous soccer landmarks in Santos to honor him while the rest of the world mourns from the side, with the image of Pelé in his No. 10 jersey forever imprinted in history.